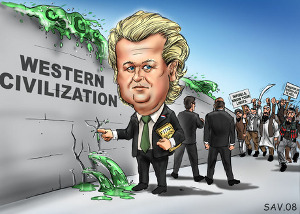 I've posted about Geert Wilders before and support him whole-heartedly regarding his opinions on Islam and the defence of Western Culture and heritage. You can visit the Geert Wilders site here… his pre-trial speech is reproduced below.
Things are now coming to a head and Geert Wilders faces the Islamic apologists and Multi-Culturist PC brigade endorsed show trial starting today… the following article taken pretty much from the site of The Green Arrow and Friends (apologies to GA, too busy to write my own and this sums it up quiet nicely):
---
It's now 8:45 ish CET and in a little over a quater of an hour the political show trial of Geert Wilders in the Netherlands will begin.
This from the International Free Press Society is a perfect summing up, Torquemada would be proud:
Any one who still claims that the trial against Geert Wilders MP, leader of the Party for Freedom (9 seats in Parliament and 27 in the polls), which starts on the 20th of January, is not a political process: get a grip. Accused by the Dutch 'Openbaar Ministerie' exactly a year ago for insulting Islam, comparing the Koran to Mein Kampf and delivering hate speeches, the coming trial against Wilders suddenly got a Kafkaesque and potentially murderous twist. Finally, seven days before his first day in Court, all fangs were out and faces off.
"It is irrelevant whether Wilder's witnesses might prove Wilders' observations to be correct', the 'Openbaar Ministerie' stated, 'what's relevant is that his observations are illegal'. Unexpected and breaching court procedures the detailed indictment of 21 pages, which Wilders received on the 4th of December and sums up in verbatim all of his Islam and Koran critique in interviews and Fitna, was amended with new accusations of racism against muslims and Moroccans. On top of this, Paul Vellerman, the public prosecutor of the Amsterdam Court decided that the Wilders trial had to be regarded as 'an ordinary trial open for public and with a normal procedure, which doesn't deserve the Department of Justice's highly secured bunker. His is a normal case and we'll treat it as such'.
It's sad to note that Mohammed Bouyeri, the murderer of Theo van Gogh, and Volkert van der Gaag, the assassin of Pim Fortuyn, were tried in this specially designed bunker, but that Wilders has to rely on his personal bodyguards and full metal jacket to ward of terrorists. No safe room for him, which recently secured Kurt Westergaard and his granddaughter, but for months on end the vulnerability of a sitting duck.
Further superb supporting articles from:
Vlad Tepes – The Trial of Geert Wilders: A Symposium
Daniel Pipes – Why I Stand with Geert Wilders.
---
There is more on the GA site… and a petitition to the Dutch Government in support of Geert Wilders can be signed from this link.

Geert Wilders – Personal pre-Trial speech
Geert Wilders' personal speech at pre-trial hearing

woensdag, 20 januari 2010

Mister Speaker, judges of the court,

I would like to make use of my right to speak for a few minutes.

Freedom is the most precious of all our attainments and the most vulnerable. People have devoted their lives to it and given their lives for it. Our freedom in this country is the outcome of centuries. It is the consequence of a history that knows no equal and has brought us to where we are now.

I believe with all my heart and soul that the freedom in the Netherlands is threatened. That what our heritage is, what generations could only dream about, that this freedom is no longer a given, no longer self-evident.

I devote my life to the defence of our freedom. I know what the risks are and I pay a price for it every day. I do not complain about it; it is my own decision. I see that as my duty and it is why I am standing here.

I know that the words I use are sometimes harsh, but they are never rash. It is not my intention to spare the ideology of conquest and destruction, but I am not any more out to offend people. I have nothing against Muslims. I have a problem with Islam and the Islamization of our country because Islam is at odds with freedom.

Future generations will wonder to themselves how we in 2010, in this place, in this room, earned our most precious attainment. Whether there is freedom in this debate for both parties and thus also for the critics of Islam, or that only one side of the discussion may be heard in the Netherlands? Whether freedom of speech in the Netherlands applies to everyone or only to a few? The answer to this is at once the answer to the question whether freedom still has a home in this country.

Freedom was never the property of a small group, but was always the heritage of us all. We are all blessed by it.

Lady Justice wears a blindfold, but she has splendid hearing. I hope that she hears the following sentences, loud and clear:

It is not only a right, but also the duty of free people to speak against every ideology that threatens freedom. Thomas Jefferson, the third President of the United States was right: The price of freedom is eternal vigilance.

I hope that the freedom of speech shall triumph in this trial.

In conclusion, Mister Speaker, judges of the court.

This trial is obviously about the freedom of speech. But this trial is also about the process of establishing the truth. Are the statements that I have made and the comparisons that I have taken, as cited in the summons, true? If something is true then can it still be punishable? This is why I urge you to not only submit to my request to hear witnesses and experts on the subject of freedom of speech. But I ask you explicitly to honour my request to hear witnesses and experts on the subject of Islam. I refer not only to Mister Jansen and Mister Admiraal, but also to the witness/experts from Israel, the United States, and the United Kingdom. Without these witnesses, I cannot defend myself properly and, in my opinion, this would not be an fair trial.