… and disable IPv6 in Windows 7, Windows 8 & Server 2008
Update and clarification: 6th Oct 2014
As pointed out in comments, disabling IPv6 is not a requirement if you're just dealing with multiple preferred IPs – ignore Step 1 if you do not wish to disable it.
Still relevant after all these years
Just finished adding a few more new Windows 7 machines to our Domain, and they've been displaying interesting behaviour re ip configuration – I'm not listing the results of 'ipconfig /all' here, but they were long and had multiple preferred IPv4 addresses and extensive unrequired IPv6 entries (tunneling etc), which you can't uninstall from Windows 7 or Server 2008.
The multiple IPv4 addresses were understandably causing a few problems on the network…
In attempts to remove them I tried scanning the registry for IP addresses in decimal, hex and binary; uninstalling and reinstalling network adapters; and just about everything else I could think of – finally, and after much pen chewing, I found the following 3 step resolution – note this will clear all your current IP settings:
1. Disable IPv6 in Server 2008 / Windows 7 / Windows 8
Add a 'DisabledComponents' DWORD registry key to Tcpip6 parameters set value to FF – This disables IPv6 on all your interfaces and connections, but does not disable the IPv6 loopback interface:
HKEY_LOCAL_MACHINE\SYSTEM\CurrentControlSet\Services\
Tcpip6\Parameters\DisabledComponents
Restart your computer…
2. Reset WinSock and TCP/IP Stack
Open a Command Prompt as administrator:
Reset WINSOCK entries: netsh winsock reset catalog
Reset TCP/IP stack: netsh int ip reset reset.log
Reboot the machine (you can run both commands first, I tend to put multiple commands in notepad and then copy and paste into the command window).
3. Renew your IP
Configure your IP settings, whether static or dynamic, and we're done
Enjoy your clean and simple ipconfig /all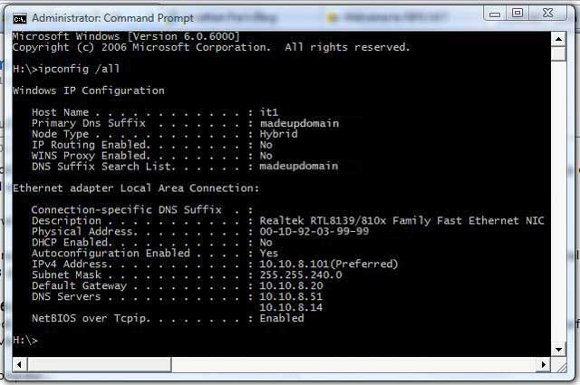 Update: Before disabling IPV6, you may want to take a quick look at the following related TechNet article.