Although I've been a fan of Microsoft's virtualisation platform (Hyper-V) for some time, running maybe 30 of ~250 UK based Servers on it (as detailed previously), for admin and resilience reasons we made a decision to go VMware ESX globally; managed through vSphere client and vCenter Servers.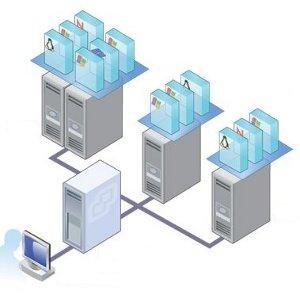 vSphere 4 allows us to aggregate and manage large pools of Infrastructure, Processors, Storage and networking in a dynamic, resilient and flexible environment. I've seen massive increase in performance on my legacy kit, even running 12 servers on one DL580 with an average 5-fold increase in performance (at only 30% host CPU) and full-wire speed on a 10Gbps iSCSI SAN.
Using VMware vCenter Converter (P2V and V2V supported) I migrated all my Hyper-V servers over, plus a host of legacy servers, and I love it.
Physical to Virtual (P2V)
Selecting the option to migrate a powered on machine allows for the import of Hyper-V virtual machines as well as physical machines, it's a good idea to uninstall the Hyper-V tools after the migration. I also removed any redundant utilities such as HP Array config and HP Management agents.
Although there is a plugin available for VMware P2V conversions, I opted for the VMware vCenter Converter standalone for mine (primarily because I wasn't scheduling migrations, preferring to watch them go and make sure all OK); works remarkably well..! I came across a few issues however:
Migrated server not starting and running at 100% CPU – leaving the hard drive type as 'Preserve source' caused problems on a couple of machines, setting it to 'SCSI LSI Bus' (preferred for Windows) and remigrating resolved these (so far just migrated Windows Servers).
Resizing drives during the migration – runs way slower than leaving drive sizes unchanged (file level conversion rather than block level). If you need to change drive sizes, easier to do so after the migration (change size in VM settings, diskpart to extend if required).
Migrated machines IP address changes – there is no way to keep the IP settings through migration, unfortunately this inevitably results in a little downtime, but easy enough to change the settings back when you've brought the virtual server up in the VMware console – you'll receive a warning that the address is allocated to a hidden device (the old physical network card) but this can be ignored. Migrating a VMware VM to another host or datastore (or even Data Center) post-migration is possible with no disruption or tweaking.
One client (Intranet Server) persistently refused to migrate with 'unable to clone volume C' errors – traced to a network card config issue – reported it was 100Meg full duplex but ran like a pig. Nailed to 100M full duplex and flew through the migration in twenty minutes.
'Disk Error – Press 'ctrl-alt-delete' to restart' – one old server had IDE drives (yes, I know), VMs don't like booting from these so change the drive type to SCSI when migrating (not 'preserve source').
USB Dongle not detected– although ESX VMs allow the addition of USB controllers, at the time of writing they are not supported and will not function. Thus one of my imported VMs will not run it's protected software as it can't see the attached USB device. Fortunately the software provider is capable of providing a software key instead, which I am currently awaiting with baited breath whilst fielding calls from concerned users – unfortunately I was advised post-migration that the VM was OK so it's too late to readily drop back to the physical box :o(
A number of my current VMs are presently on DAS, my iSCSI filers being pretty much at capacity – I'm waiting on a couple of new 6 TB units which will enable transferring my data stores onto attached storage – much preferable as I'll be able to snapshot and flit these VMs from host to host quickly in real time (VMotion). In the meantime, most of the servers have LUNs on the current iSCSI, and most of these servers have migrated successfully but I have one which just will not map the iSCSI LUN to the drive – you can see the LUN in drive manager, but it's not recognised by windows..!? Ah well, it's only a dev server..!
VMware vSphere Client
What a stunning utility..! Intuitive and informative, easy editing and monitoring of all the VMs and hosts, superb interface. I can't wait to get the new SAN on line and migrate my remaining DAS datastores – it even monitors the VM and host performance and can move VMs from misbehaving hosts automatically, moving them to a host best suited for the VMs performance.
Much as I've loved Hyper-V and believe that it has a place for Server consolidation in smaller environments, for a large network I have to say that VMware vCenter and vSphere kick its arse, definitely worth the investment.