My old and trusted Triumph Sprint 900 has now made way for its bigger brother – the Triumph Sprint 955i ST. Oh that sexy single-sided swing arm & sweet exhaust swayed me.. I'm just so shallow.
Handling and performance are in a different league from my old Sprint and it looks & sounds so beautiful, especially running on my new SP Engineering street-legal exhaust system. Now when riding I often find myself smiling so hard that my face hurts.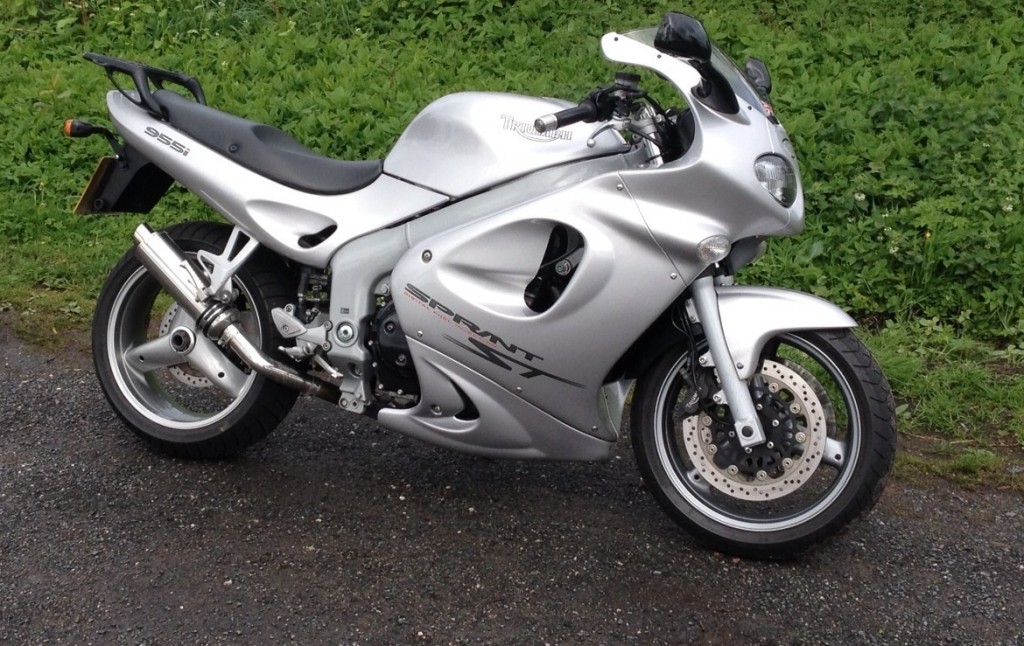 Presently commuting around 100 miles a day for the PCI DSS contract I'm working on and the Sprint is coping more than admirably..! Half quiet motorway, the rest country villages and fast dual-carriageways. The miles disappear in a rock-steady blur on the fast roads, and there's plenty of opportunity to enjoy the handling and power on the twisty bits.
Acceleration up to motorway cruising speeds is near instantaneous – pulling 90 mph at under 5,000 rpm means the throaty triple's singing nicely with kick-in-the-pants acceleration available should you happen to find yourself on a German Autobahn… Care is required in the lower gears because that front wheel lifts with remarkable ease if an over-enthusiastic throttle hand is applied.
The SP Engineering aftermarket exhaust is loud enough to make me grin heartily under acceleration and yet thanks to the (removable) baffle is hardly anti-social at all when ridden sensibly, also pops and burbles in a most enjoyable fashion on the over-run – great fun..!

The only criticism I have is not really the bike – it's me. At 6'4″ with a 36″ inside leg the Triumph is a tad cramped for long rides; neither lowering the foot pegs or shortening my legs are options that strike me as sensible, but a couple of inches padding in that seat dip make all the difference..! At the moment I strap a small pack in there, but going to get it professionally padded and upholstered.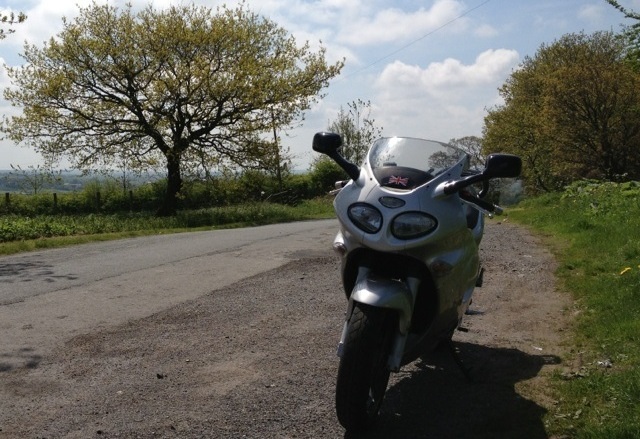 There is also a video (updated from previous poor version) on YouTube here: Sprint ST 955i with SP Engineering exhaust
The Triumph Sprint 955i reminds me of (although is vastly superior to) my first Triumph, the Trident 900 back on a K-plate… The black beastie was almost invariably at the Swinging Sporran, Jillys Rockworld or any of a number of rallies around the country – Kent, Rock and Blues, Farmyard etc etc… Until stolen… K338 WAY where are you now..?