Triumph Sprint 955i Weak Charging System
Part 2
Following on from Part 1, when the problem first manifested.
Prelude
Alas my difficulties in getting home the previous evening were nothing compared to the following day… The Sprint behaved beautifully after a full overnight charge, but on my 100 mile commute the battery dwindled almost completely – first hint of trouble when the tachometer and speedo both fluttered & died, second hint of trouble when the bike followed suit.
I should, of course, have performed a little testing the previous evening instead of confidently assuming that the problem was the loose battery cable. Had I done so I would probably have noticed that she wasn't charging at all.
After a 5 hour wait in Colne a recovery vehicle finally turned up – apparently 6'4″ angry looking bikers in a Sainsbury's car park are considered neither 'vulnerable' or 'high priority' – he confirmed that the Sprint was indeed dead (down to <11 volts), loaded me on the wagon and took me home, to the apparent relief of the circling Police Patrol - overall, a tiring 6 hour 50 mile trip home. The Problem: Weak Charging System
It would be easy to be critical about this, but most motorcycle manufacturers are guilty of these same cost saving shortcuts…
1. The Sprint uses a Shunt Regulator/Rectifier – not very efficient and tend to run very hot – I know there has been a spate of these failing (maybe down to the recent hot weather), seriously – if you still have the original shunt type Regulator/Rectifier then I'd consider changing it to a MOSFET one before it goes and takes your alternator stator with it.
2. The nice, thick, high current DC cables out from the Regulator/Rectifier disappear into the wiring loom, becoming much thinner (hence hotter and inefficient under load).
3. Alternator Stator insulation not quite as good as it should be.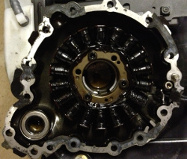 Result of all this is that my sudden stint of high mileage commuting burned out the shunt Regulator/Rectifier, which shorted.
The duff Reg/Rec then pulled too much current from the 3-phase alternator.
The Alternator Stator got so hot it burnt out its insulation and shorted the coils to ground (pic to right).
So… No DC back to the battery 🙁
Resolution: Option 1
Pay Triumph nearly £600 for replacement alternator stator and shunt Reg/Reg, plus about £300 for fitting – which would get me back to a fully functional, but potentially still temperamental charging system..?
I don't think so…
Which leads us to…
Resolution: Option 2
Purchase of higher quality Electrosport ESG959 Alternator Stator and Electrosport ESR535 MOSFET Regulator/Rectifier – from M&P in the UK, less than £170 for both items.
Fitted them myself:
– Tank and all bodywork (except headlight unit) removed
– New Reg/Rec bolted inside of right hand frame & cabled in
– Alternator replaced
– Spliced Reg/Rec output direct back to battery (30A fuse)
– Put everything back together and prayed
Not quite as simple as it sounds – took me best part of a day in all, with much grunting and cursing. Still, <£200 versus >£900 for a less efficient system – the work was worthwhile.
Not to mention the warm glow of satisfaction from a job well done.
Result
Putting out 14.4 volts at the battery from tick-over right across the rev range; at every start the motor spins like she's being jump-started by a truck.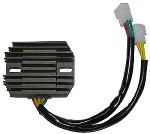 The ESR535 MOSFET Reg/Rec runs cool enough to touch (just try that with a shunt Reg/Rec).
Bike seems more alive.
Me too….
** Important Note **
The first alternator purchased – described as correct for year, model, manufacturer & VIN range – did not fit. It bolted into the alternator casing OK, but at several mm deeper it prevented the cover fitting flush with engine casing. Fortunately I test fit everything before torquing down and thread locking so the incorrect one was refunded without quibble. You can see the difference below:
After carefully checking dimensions I ordered the ESG959, although this was described as a 2010 Triumph Tiger 1050 Alternator Stator (115mm x 42mm x 22mm) – The moral being check measurements before you buy, don't rely on the description (cost me an additional 3 days no riding).
Notes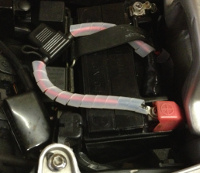 Here you can see the direct feed from the Reg/Rec back to battery – ran 30 Amp cable (fused) from the output ~10 inches to battery positive and ground.
Much more efficient rock-solid regulation and charging now as no losses from passing heavy current through the loom as before – the good stuff has an easy path right to where it does most good.
.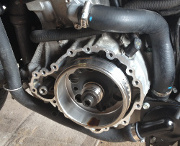 Don't forget – as I did – you'll need a gasket for the alternator casing.
Fortunately the excellent Philip Youles Blackburn Triumph Dealership is only a 20 minute blast from Westhoughton and Wooly sorted me out in short order.
The problem with Youles is you go in to spend £10 and leave wanting to spend £10,000.
---
As an aside, whilst at Youles I met and fell in love with what will be my next bike – the rather magnificent, moody yet comfortable looking Triumph Thunderbird..!
If anybody wants to swap a Triumph Thunderbird for a low mileage Sprint ST 955i, you just let me know 😉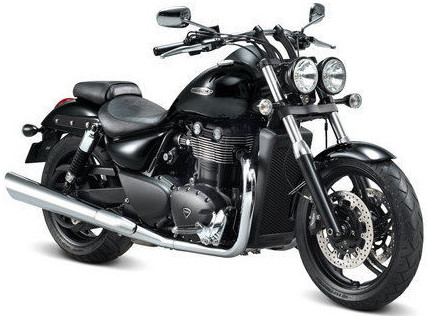 ---
Thanks to…
DEcosse on TriumphRat.net for his excellent article on Triumph charging system diagnostics – most helpful (although I went for the ESR535 Reg/Rec)
zam70 on TriumphRat.net for his insight into charging loads through the loom and remediation – splicing into Reg/Rec output and running direct to battery posts. I have noticed much crisper response from my Sprint following the mod, and no dimming of the headlight at tick-over.