Why, where and how: my Triumph Thunderbird 1600 cat bypass pipes
Having heard Thunderbirds with long TORs and catalytic converter bypass pipes fitted, I decided to go this route and drop the cat – saving weight, improving performance and enhancing the exhaust note in a deeper rumbly style (without undue annoyance to the neighbours).
I took a quick look around at the various options and it seemed there were 2 main approaches:
Balanced cat bypass pipe (expensive)
Seperate cat bypass pipes (much cheaper)
Fig 1: Balanced Thunderbird cat bypass pipe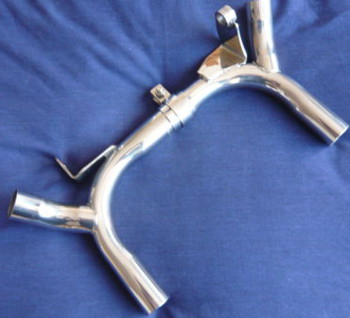 By far the most expensive solution, there is an argument that this form of bypass may increase scavenging and maintain correct back pressure.
Fig 2: Straight Thunderbird cat bypass pipes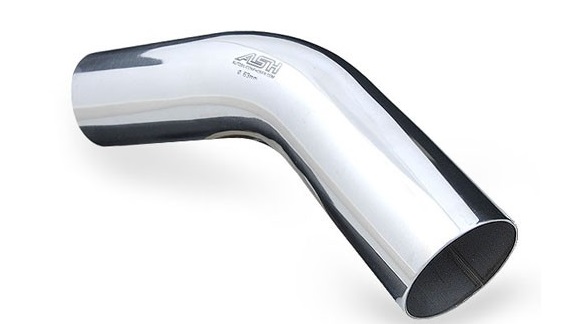 From extensive research on the Triumph forums, riders are getting good results with straight through pipes. There is already a balance pipe towards the front of the exhaust system on the Thunderbird, so it looks like the crossover is not required when bypassing the cat – in fact I believe the cat itself does not cross… rest assured that I will be posting results and video here as soon as definitive results are obtained.
Update: So, after confirming my initial suspicions, straight through bypass pipes is the way I've gone. Got myself 2 of 45 degree bend 38mm stainless tubes – each leg 150mm. Any less than this on leg length and it'll be too short.
Note: Got from AP Motoring (Auto Silicone Hoses) eBay shop, ebay part number 290768447070, description Stainless Steel Bend Pipe Elbow Tube – Exhaust Mandrel Degree 90 45 T304 – £22 for the pair.! Actual product shown above.
Took a 65mm section off one end of each pipe, cleaned up the cut edges for easier insertion.
Removed silencers, then removed the cat – only awkward part was that when everything is loosened off you have to pull the rear of the cat to the right of the bike first, to disengage it from a mounting lug on the left, and then 'persuade' it towards the rear wheel to remove.
Slot the short pipe leg into the silencer & then mount, sliding long leg into header. Tighten everything up and refit heat shields.
Update:
1. Loosening off the left footrest bracket makes removal/refitting soooooo much easier.
2. If you do manage to damage the exhaust gasket, replacements are around £10 (PFKL1207474 GASKET.EXHAUST.ID38.8.OD44.9)
This is the point I'm at now, but as it's 23:41 I'll leave firing up till the morning..!
Quite a straightforward process, difficulty level 3 (slightly increased heart rate, mild cursing, no blood).
Above is a shot from the left of the Thunderbird showing one of the bypass pipes (obviously before heat shield refitted) – note the void where the heavy cat used to sit.
I have to say that the difference is significant – beautiful deep rumble at low revs and a 'look out here I come' bark under throttle – some people may find it a little too loud. I'll get a video of her up and running posted soon, but in the meantime, check out Wolfsego Thunderbird on youtube, he starts it up at 1:50 and mine sounds the same (you'll need decent speakers or headphones to pick up the low notes).
Note: Took the Thunderbird on my 'social loop': Westhoughton, Bolton, Chorley & Clayton-le-Woods – all peers duly impressed with the sound and suggest that it is definitely not too loud (update: now on short TORs – deeper note but still not too loud).
---
EDIT
FYI – 2009 Triumph Thunderbird 1600, K&N high-flow air and oil filters, long TORs, TOR Tune (#20306).
Update: Even better with short TORs – everything here still applies, but even more so. Awesome.
I've now put 22,000 miles on the clock in the 2 years I've owned it(19,000 on long TORs, 3,000 on short TORs), no issues (31,000 total).
---
After one 50 mile run, sensors had adjusted appropriately and she runs beautifully – only an occasional pop from exhaust under serious deceleration on those rare times when I've given it a handful (honestly, Officer). No signs of over-heating or lean running (after 6 months and 8,000+ miles cat-less). Big Grin motorcycling.
If you go the TuneEcu route to check your maps and diagnostics, couple of things worthy of note:
Pull fuses for headlight/brakelight
Battery charger connected or additional battery in parallel – stops timeouts, it's temperamental otherwise
First download of your current map can take 25 minutes
Example screenshots showing map number and diagnostics below (no DTCs – always good).
There are a couple of comments from Ron, who's not ecstatic about the mods, but generally feedback on results (from here and other forums) has been good – there's some useful additional info in the comments.