Several months ago I saw my first Triumph Thunderbird in the flesh and vowed that one day I would own one. Although the first to admit that I may perhaps be prone to one or two minor character flaws, never let it be said that failing to keep my word is one of them – even if that promise was only to myself.
Update April 2016 – Current look
2″ risers, short TORs, K&N high flow oil and air filters, Mustang seat

20th July 2014 – extras removed for cleaner look
This isn't the Storm, the Triumph Cruiser that originally caught my eye, but it IS the Triumph Thunderbird 1600 ABS in two-tone blue and white – a thing of beauty that sounds like Thor clearing his throat after a particularly heavy nights' carousing in Valhalla. Deeper exhaust note than standard thanks to the Triumph high-flow silencers (Long TORs), but slightly strangled by the heavy & restrictive cat – there's another post re: cat bypass.
2015 – Mustang Day Tripper seat fitted
1600cc of awesome British power, 270 degree parallel twin, winner of several cruiser of the year awards – and in this particular instance, now mine… Much as I loved my Triumph Sprint 955i, twenty five years of Shukokai Karate have screwed up my hips to the point where every time I got off it I walked like John Wayne for 10 minutes – beyond inconvenient considering my bike is my preferred method of getting anywhere – time for a different riding style..!
Have posted a YouTube video that hopefully demonstrates just how awesome this 1600cc lump of beautiful British engineering artwork looks and sounds… believe me, photographs don't do it justice and it has to be heard to be believed. I need to do another showing the difference the cat bypass made.
Take what pleasure you can, whilst there is still pleasure to be had and breath with which to take it – don't recall who said that originally but it struck a chord.
Update:
Couple of pics taken after a few days riding – luggage removed for cleaner lines. Briefly, best bike I have ever owned – and that's a list of around 30 bikes including the GPz 1100i, GSX 1100, CX 500 and a range of other Triumphs. It's not awesomely fast – but more than fast enough, it handles beautifully, sounds amazing, attracts attention everywhere it goes, comfortable (with minor 'need a custom seat my legs are too long again' issue) and makes me happy ..!
In addition, my French colleagues are perpetually in awe… Well, 'Peugeot Motorcycles' just doesn't have the same ring. One of these days I'll do a video of the Thunderbird rumbling over the Millau Viaduct – a combination of the best of English & French engineering (2.4km, 270m road to ground).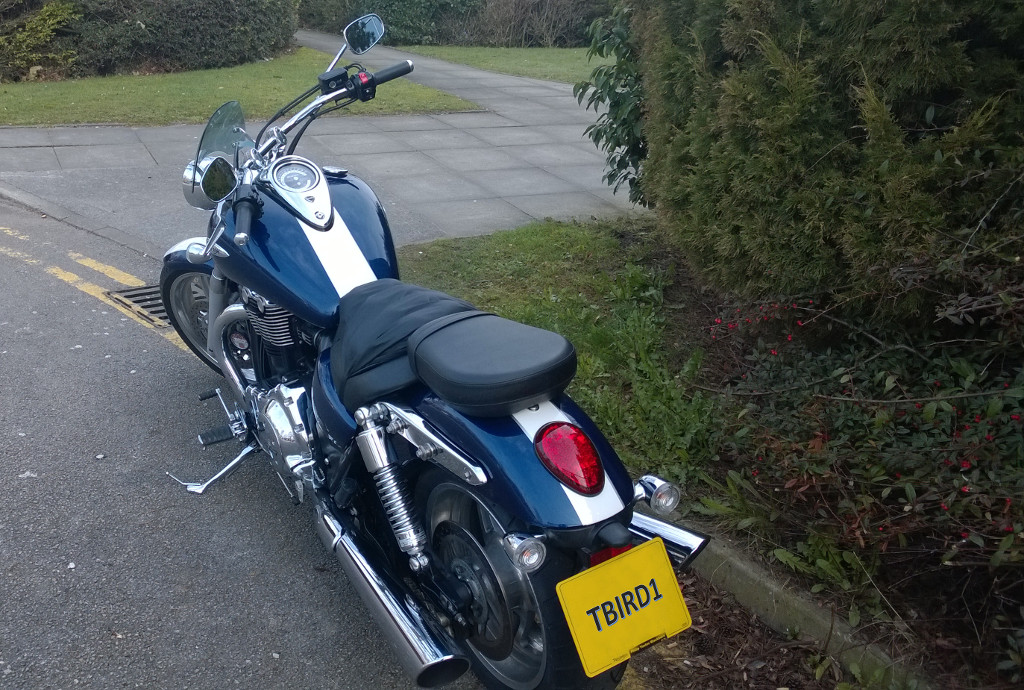 After I put the cat bypass in I took her on a run around Bolton, Westhoughton, Chorley & Clayton-le-Woods: what should have been a 2 hour errand run took me nearly 4, mostly older blokes collaring me at every stop reminiscing about their Triumphs of days long gone – and some motorcycle stories too. The cat bypass has no adverse effects on power, if anything she feels even more responsive.
Here's a video of the Thunderbird running (with cat). If only I had the time or the inclination to practice video editing – the iPhone microphone lets it down a little too.
Update Oct 2014: Triumph Thunderbird and Tall Rider Seat Strain
Well, I've been living with the Triumph Thunderbird for nearly 8 months now and stand by my comments above regarding it's awesomeness with one tiny caveat – the seat.
I'm 6′ 4″ (1.93m to those in metric land) with a 36″ (91.4cm) inside leg – I'm guessing that qualifies me as as a 'tall rider' – for me this presents a small issue with rider seat comfort.
Although vastly more comfortable and less stress inducing (for my frame) than the sports-tourers I used to ride (Sprint 900 / 955i) – one thing has become abundantly clear from my daily commutes (ride her almost every day). The Thunderbird is not designed with the taller rider in mind from a seating perspective – a custom seat may be required.
The front edge of the pillion seat had an annoying tendency to dig into my coccyx and trust me, on a long ride it becomes exponentially more unpleasant with the passage of time. This explains the ugly air-seat visible in many of the early pictures. For comfort's sake I usually found myself perched on the edge of the pillion seat with air-seat providing additional support – with the added bonus of straightening the legs a little.
As I most frequently ride alone and the air-seat looked like an after-thought (it was) I've now removed it – along with the pillion seat and sissy-bar. It looks so much better without the high pillion seat and comfy-butt rider air-seat. I find that I can sit further back – well, more accurately, sit with my arse wedged between the rear edge of the seat and the fender (pardon the Americanism) and although this is considerably more comfortable, it's not the ideal solution.
Been doing a little Googling and I am not alone in this dilema – looking to resolve I've found photos of a hand-built one-piece rider/pillion custom seat where the front has been built up and rider position moved back, which looked beautiful.
I've also seen a really nice American Custom Seat – the Mustang Custom Seats Triumph Thunderbird 'DayTripper' – my gosh I like the look of this and pretty sure it would vastly enhance my riding comfort whilst simultaneously complimenting the Thunderbird's aesthetics – alas, although a highly desirable accessory this may remain the seat of my dreams (close second to Jessica Alba's) if I can't source something I like in the UK.
Triumph Thunderbird 1600 Custom Seat: Mustang DayTripper
Update: June 25th 2015
Well having looked around for months (and months) for a suitable replacement seat I finally decided to bite the bullet, even as I type there is a Mustang DayTripper Thunderbird seat winging its way across the Atlantic – £280 after adding import taxes and delivery – not too bad. Due to land at Faulkner Towers around the 4th July so expect a couple of photos around the 5th (make that the 23rd – see below)… assuming Powersports2go (aka ChromeWorldParts) of Selbyville, Delaware, USA have despatched it.
4 days after ordering my Mustang DayTripper Seat from ChromeWorldParts (Powersports2go), Selbyville, US (eBay), it still hadn't been sent. Quick email to them elicited the response that the seat is out of stock and would be sent in 'a few days to 3 weeks'. Tad miffed as on the eBay page they describe themselves thus:
New in Box ships from 5 different warehouses across the US. We have the fastest shipping available from the only NEW Mustang Seat stocking dealer on EBAY.
Same day shipping if ordered before 1pm EST.
I don't think so…
Considered cancelling and ordering from somewhere with confirmed stock, but what the hell – 3 weeks will soon pass.
Update: July 6th 2015 Neglected to mention that ChromeWorldParts (Powersports2go) emailed me back and said that they would ship the seat direct from the manufacturer to expedite delivery. Whoopee. 12 days in and getting a little twitchy – I'm just so damned impatient.
Update: July 14th 2015 – Cancelled the order: Powersports2go (aka ChromeWorldParts) updated the eBay page with 'does not ship to the UK' in big red letters. At least they refunded me within the hour and were somewhat apologetic. They have an excellent on-line reputation though so I'm guessing that, like with many things in my life, I'm the statistical anomaly. On the plus side, I ordered another Mustang Day Tripper (having confirmed stock levels) from Eastern Performance Cycles, Maryland, United States (via eBay) – excellent communication, despatched promptly and International Tracking indicates delivery on Monday 20th – should have done that in the first place.
Update: July 24th 2015 Sigh… the 20th was the date UPS delivered my seat to Customs in the US… so… still… waiting… and waiting… and waiting… Apparently with final destination carrier right this moment.
In the very near future I intend to do a 'living with the Triumph Thunderbird' article – reviewing the last 15 months and 16,000 miles of Thunderbird pros and cons.