As a Birthday & Anniversary weekend we decided to pop away for a quiet weekend incognito. A little research around the Yorkshire Dales identified the George Inn at Hubberholme as a likely candidate. Lovely, unspoiled 16th Century Inn with views of the Norman St. Michael and All Angels Church just across the infant river Wharfe.
The George Inn, Hubberholme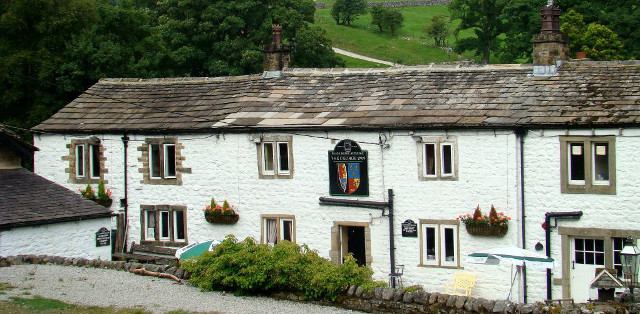 Checked it out on Trip Advisor and although there were a few negatives, these were all fairly old and seemed to relate to the previous landlord – most after June 2013 (new management) being enthusiastically positive. Took the chance and booked a couple of nights.
The location was just what I had in mind: Classic Yorkshire Dales, 16th Century Grade II listed, thick stone walls, flagged floors and mullioned windows – coal fire in the bar and no gaming machines or piped music in the pub! Most importantly, high quality proper pub food (I hate tiny portions, artistically arranged and drizzled – which seems so fashionable just now).
Ed & Jackie, the Landlords, were helpful, friendly & fun – they made the two night stay feel more like staying over with friends. Jeff the Chef was equally sociable (often very funny) in addition to knocking up some seriously astounding food – Debbie favoured his Lamb Henry & Chicken Madras, I opted primarily for his pies… the Steak and Ale only just being beaten by the Steak and Blue Cheese. We also found their young bar-help & waitress were equally genuinely friendly and obviously loved their jobs.
The locals and the few walkers and cyclists that passed through whilst we were there were without exception friendly and interesting, often joining us for interesting chats on a range of subjects (ranging from mute Yorkshire Terriers to current affairs and the state of the Nation).
The accommodation was clean and cosy – the bed was very difficult to get out of at breakfast times and more comfortable than many I've experienced in highly rated city hotels.! The surrounding areas were lovely and the whole trip was a great success… we are planning on returning in the near future, day trip out on the Triumph for a drink and meal.
Congratulations to Ed, Jackie and Jeff the Chef for making our stay at The George Inn an excellent weekend – you couldn't wish for better hosts.
Almost forgot to mention George, the resident 20 week old Jack Russell puppy – dynamite, tail-wagging, dewy eyed, lovable bundle of puppy fun who if handled unwisely also made a fine face-cleaner, ear-wax remover and potential ear-piercer.
Trip Advisor link: The George Inn, Hubberholme, Skipton
One thing to note would be the poor mobile reception in the area (miles around) – although I found this a positive. There is wireless internet though so Skype, Google+ and email stayed available. Ed & Jackie were quite happy for us to use the landline if necessary too…